Charles Collins (1680-1744)
Charles Collins was born in Dublin, Ireland in approximately 1680. Prior to leaving Ireland for London during the 1720s, he trained in the art of animal still life. His paintings in oil and in watercolour of live fowl, exotic birds, hunted game, domestic animals, and especially hares, showcase his considerable competence as a painter. It was due to his high level of skill that he earned repute in England as an "animal painter." This status allowed him to become one of the only foreign-born artists in London able to specialize in a specific field during this time. Among his first commissions in England were two series for subjects within the field of natural history. The first was a series of seasonal fruit for Robert Furber's Twelve Months of Fruit (1732) and the second, completed in 1736, was a collection of bird still lifes in oil on canvas. Collins and John Lee subsequently copied the series of nine oil paintings for a set of nine engravings entitled Icones avium cum nominibus anglicis into a set of twelve engravings. Nine paintings from this series are currently held by Anglesey Abbey, Cambridgeshire. Shortly after, Collins began working on a commission for Taylor White. He worked for White until around 1743; he was also an active bird painter for the Royal Society. Collins died in 1744.
Peter Paillou (c. 1720-1790)
In 1744, Peter Paillou took over Collins' commission for Taylor White. Paillou was a lesser-known artist than Collins, though nevertheless successful during his time. He was born in London to parents of Huguenot heritage in around the year 1720 (though his birthdate differs widely in the secondary literature, ranging from 1712 to 1720). His skills as a painter were first developed in around the year 1724, when he apprenticed under a certain Jacob Tribble of St. Anne's Westminster. Some years later, in 1745, Paillou won his first commission for a gilded pheasant from Taylor White. Paillou also painted a fair number of zoological subjects for the naturalist Thomas Pennant, which were subsequently engraved by Peter Mazell, for Pennant's books, British Zoology (1761-66) and Arctic Zoology (1784-87). Paillou was later elected to the Society of Artists, where, in 1763, he exhibited the painting A Piece of Birds, in Watercolours; the Hen of the Wood and Cock of the Red Game, and later went on to show a picture of an owl made completely from feathers. Paillou died in 1790.
George Edwards (1694-1773)

A third major artist whose works feature in White's collection is George Edwards. Edwards was born on April 3, 1694 at Stratford, West Ham in Essex to a family of Welsh descent. He studied natural history for the first time in 1716; it was a subject he would continue to pursue in 1721, following eventful travels to France and Holland. As an artist and natural historian, Edwards applied himself to drawing and colouring animals, and especially birds, which first engaged his particular attention. Edwards' renderings of birds demonstrate his erudition and close attention to detail, such that his works were more natural in appearance than picturesque. Edwards found a keen market for his drawings in England, securing patronage from the likes of Sir Hans Sloane. Sloane was instrumental in Edwards assuming the position of a beadle or librarian for the Royal College of Physicians in 1733. Edwards was taught by artist and naturalist Mark Catesby how to copy paintings into etchings, which allowed him greater control over publication of his books. Edwards' first illustrated book was A Natural History of Uncommon Birds (1743), which was so outstanding that it gained him nomination for fellowship of the Royal Society. Edwards went on to achieve international fame, his works appreciated and use by Linnaeus. Edwards died in 1773.
Pieter Cornelius de Bevere (1722-1781)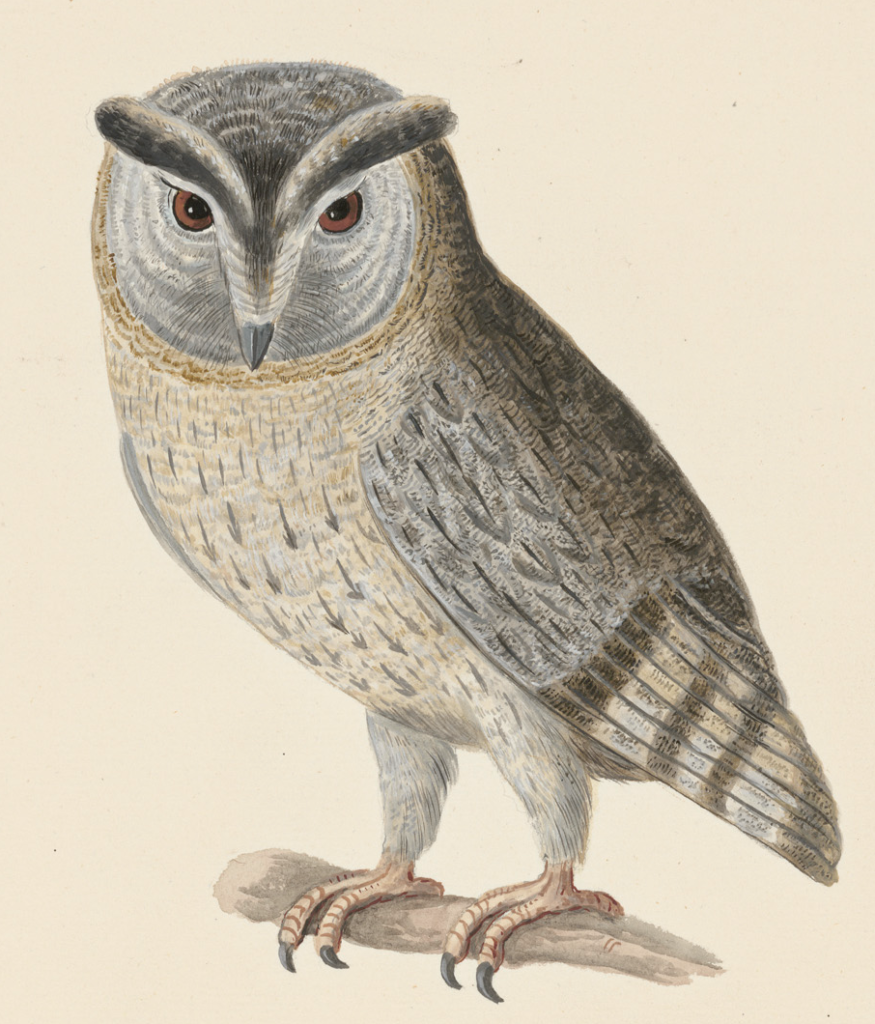 Pieter Cornelius de Bevere was born in Colombo, Sri Lanka in 1722 to a military family with the Dutch East India Company. In 1743, Bevere entered the Company's service as an assistant surveyor, which would inspire his artistic renderings of local animals and plants. Sometime following the 1750s, Bevere was engaged by the Governor of Ceylon, Johan Gideon Loten, for whom he rendered copious birds, mammals, fish, invertebrates, and plants observed in Ceylon and Batavia. Bevere's natural history renderings for Loten were not published, but rather were bequeathed by Loten to the Society of Sciences in Haarlem where they stayed until 1866, when the Society's collections were dispersed. He died in 1781.
Eleazar Albin (1690-c. 1742)

Another artist with a unique artistic style featured in White's collection is Eleazar Albin. Albin, whose original surname was Weiss, was born in the German states in 1690. Little is known of his early life, although he claimed in his Natural History of Birds (1731-38) to have been "at Jamaica" in 1701. By 1708, he was married and living in England, in or near the parish of St. James' at Piccadilly. Albin's artistic works reflect his teaching activities and interests in the field of natural science. Akin to Collins, Edwards, and Paillou, his renderings in this area adopt a naturalist approach. His first natural history book entitled A Natural History of English Insects (1720) includes one hundred coloured plates, he engraved and coloured by hand. In 1736, he published his third book entitled Natural History of Spiders and other Curious Insects, which includes a portrait of the artist. Following the success of his books, he would publish in 1737 A Natural History of English Songbirds. While predominantly a natural history artist, Albin is believed to have completed other types of paintings, including a representation of the rich man and Lazarus and a male portrait, currently on view at Bellevue Palace in Kassel, Germany. Albin died in approximately 1742.
Jacobus van Huysum (c. 1688-1740)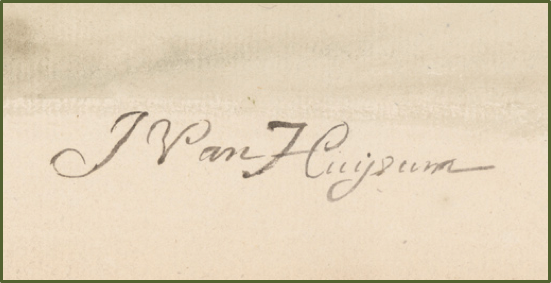 Jacobus van Huysum was born in Amsterdam, the Netherlands in approximately 1688 to a family of history and floral painters. Prior to his father's death in 1716, Huysum worked at the family studio. He would leave Amsterdam in 1721 for England, where he was in the service of Charles Lockyear, the accountant of the South Sea Company. In London, Huysum also worked on the Catalogus Planatarum (1730) of Philipp Miller and on the Historia Plantarum Rariorum (1728-38) for John Martyn. Taylor White's collection features paintings by the artist. Huysum also worked for two years with Sir Robert Walpole in Chelsea, where he copied works by Claude Lorraine, Caravaggio, Gellée, Dughuet and others. According to the Dutch painter, Jan van Gool, Huysum painted many excellent flower and fruit pieces of his own invention during his lifetime. Referring again Gool's account, Huysum is said to have enjoyed a frivolous life, to have surrendered to the trunk, married a wicked woman, and to have died in misery in 1740 "already a number of years dead."
–Hayley Eaves